Consilience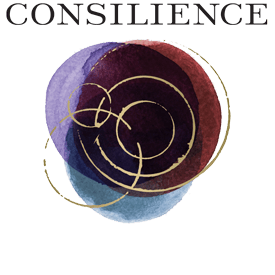 Take your palate on a trip to France, Italy and Spain right here in the heart of the Santa Ynez Valley.
Consilience focuses loosely on Rhone and Burgundian varietals and few others we couldn't resist.
But wait! There's more.
Our sister label Tre Anelli, is inspired by the traditions of Spain and Italy, and the Marianello brand showcases a white blend and a SuperTuscan red blends.
Whether you're a fan of French style wines or have a fondness for food friendly wines in the Italian and Spanish mode, we hope Consilience, Marianello & Tre Anelli will capture your attention and your imagination.
---
How we got started...
Consilience became a reality in March of 1999 when winemaker Brett Escalera released his very first wine - our 1997 Santa Barbara County Syrah.
Who would have known more than two decades later we're still sharing our wines with people all over the country.
As many followers know, Consilience focuses loosely on Rhone and Burgundian varietals with grapes sourced from some of the best and most exciting vineyards throughout Santa Barbara County.
And Then There Was Tre Anelli...
In 2007 our second label Tre Anelli came to fruition specializing in Italian and Spanish varietal wines sourced predominantly from Santa Barbara County.
In late December 2013, Consilience & Tre Anelli wines became part of The Sanger Family of Wines. Bill and Jan Sanger, proprietors of the Marianello brand, welcomed us into their wine family. The Marianello brand showcases Italian influenced wines; the Estelle Bianco, Cielo Rubio, and Cinque Terra, along with other italian varieties such as Nebbiolo, Sangiovese, and Vermentino.
We welcome you to enjoy all three brands in our spacious tasting room located in the heart of the Santa Ynez Valley in the quaint Danish-style town of Solvang, CA.