Converge/Estelle Bianco BOGO MIXED CASE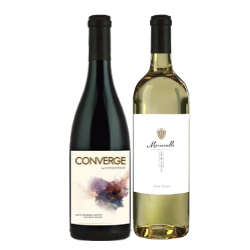 2013 Marianello Estelle Bianco
Winemaker Brett Escalera sources a range of grape varieties from several different area vineyards to develop a blend that is an homage to the Northern Italian wines we love.
65% Sauvignon Blanc, 27% Viognier, 4% Chardonnay, 4%Roussanne.
The wine spent 16 months in primarily neutral oak barrels before being bottled in July 2015. This is an elegant wine that's a perfect accompaniment to seafood or grilled chicken.

2013 Converge Red Blend
Wisps of oak meld with violets, coffee and a touch of white chocolate in this medium-bodied blend. Soft and supple, perfectly weighted for grilled poultry or pork, hint of acidity makes one think of the rustic red Syrah-based blends of France's Languedoc-Roussillon region. 69% Syrah, 15% Petite Sirah, 6% Sangiovese, 5% Cabernet Sauvignon, and 5% Merlot.