Library Select Bundle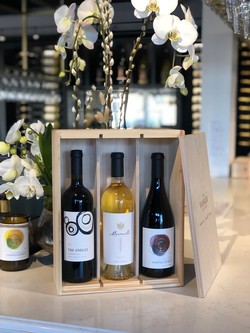 2014 Estelle Bianco - Retail $42
A refreshing blend of 75% Sauvignon Blanc, 10% Grenache Blanc, 10% Roussanne, and 5% Viognier. Age has revealed amazing notes of caramelized apple, papaya, and jasmine scents, leading to a palate of candied apple
2014 Tempranillo - Retail $49
Originally a rich, thick and chewy wine, age has created a more polished and resolved tannin structure, perfect for a rich and hearty dinner. Initially, you are met with savory notes of cherry and cured meat, with a slight smokiness due to it's extensive time spent in barrel. Enjoy this wine with dinner, but save a glass for sitting by the fireplace!
2014 La Presa Petite Sirah - Retail $55
The La Presa Vineyard was originally planted in the 70's, and still has some of the highest quality and most concentrated Petite Sirah in the Santa Ynez Valley. We use fruit exclusively from this vineyard to create a wonderful expression of what the Petite Sirah varietal has to offer. This wine still has amazing structure, and has notes of blackberry and dark cherry with a full mouth feel. Enjoy with dry rub smoked brisket or pork tenderloin.
Whole bundle - $75 + $15 flat rate shipping