Library Select Bundle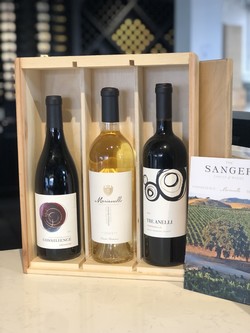 2014 Estelle Bianco - Retail $42
A refreshing blend of 75% Sauvignon Blanc, 10% Grenache Blanc, 10% Roussanne, and 5% Viognier. Age has revealed amazing notes of caramelized apple, papaya, and jasmine scents, leading to a palate of candied apple
2014 Tempranillo - Retail $49
Originally a rich, thick and chewy wine, age has created a more polished and resolved tannin structure, perfect for a rich and hearty dinner. Initially, you are met with savory notes of cherry and cured meat, with a slight smokiness due to it's extensive time spent in barrel. Enjoy this wine with dinner, but save a glass for sitting by the fireplace!
2015 SBC Grenache Noir
Our first Grenache since our award winning 2012 vintage offers beautiful aromas of blueberries, raspberries, allspice, and light oak. A welcoming, fruit forward palate leads to a more concentrated and heavier style Grenache than our previous vintages, with a balanced acidity that makes it enjoyable with or without food. This perfectly balanced wine would pair nicely with baby back ribs or street tacos.
Whole bundle - $65