Pinot Noir Library Release Special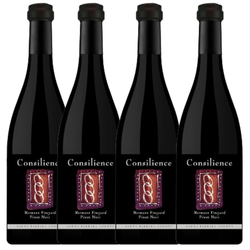 ALMOST GONE!
We have opened up the cellar door again and are sharing a stellar Pinot Noir vintage at a special price!

4 bottles at with $5.00 Shipping!
2012 Pinot Noir Mormann Vineyard
With fresh scents of rose petals and rich burgundy color, this wine simply beckons romance. You will surely fall in love when dusky flavors of dried dark cherries and white pepper surround your taste buds. And when you pair it with your romantic dinner for two, well, you'll know that this is what you have been waiting for your whole life. We suggest filet mignon topped with caramelized onions and mushrooms snuggled up to a side of roasted garlic mashed potatoes. Or poached salmon with a smoky chipotle rub served over a crisp bed of romaine.