Summer Sipping Duo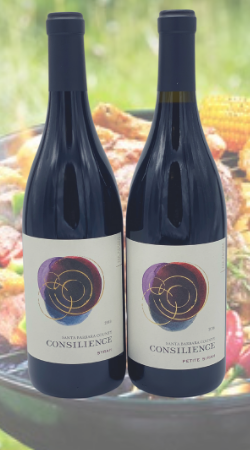 Tis the season for Dads, Grads and Summer celebrations! The perfect duo to sip along with your favorite Summer moments and meals!
2018 Syrah Santa Barbara County
This wine is rich and deeply colored. It offers oak, cedar, and cranberry on the nose, with a fruit forward, smooth and well balanced finish. A beautiful Syrah like this one can hold up to the intense flavors of slow-roasted barbecue pork. A great cut for this might be a pork shoulder with pepper and cumin to bring out the fruitiness in the wine.
2016 Petite Sirah Santa Barbara County
Our 2016 vintage of Petite Sirah offers boysenberry compote, dark cherry, sweet spice, and black licorice scents on the nose. This wine is rich and deeply colored with a bold, assertive palate with balanced tannins making it the perfect wine to pair with a grilled ribeye steak or spice rubbed lamb chops.
Regular Price: $68.00
Special Price: $42.00